Welcome to Boulder Creek Veterinary Clinic
Your Veterinarian in Boulder Creek, CA
Call us at 831-338-7205
Pet Emergency? Read no further and call us right away!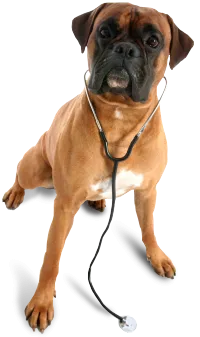 If you live in Boulder Creek or the surrounding area in CA, then you have picked the perfect site to find a veterinarian. Nestled in the beautiful redwoods of the San Lorenzo Valley in Central California, the Boulder Creek Veterinary Clinic is here for your pet!
Boulder Creek Veterinary Clinic is a full service animal hospital equipped with state-of-the-art digital radiology equipment, modern surgical suites, hospital treatment wards, specialized dental equipment, and bathing facilities. We are also fully staffed and equipped for emergency services.
Our staff is dedicated to bringing the best veterinary care to your pet while working within your budget. We firmly believe in treating the whole animal, offering all your diagnostic and therapeutic options under one roof. Our commitment is to allow you and your pet to achieve the best quality of life. Our doctors are graduates of top accredited veterinary colleges and regularly attend continuing education seminars in order to provide our patients with the most current Western therapy and holistic alternatives. Our support staff compliment the doctors' training by adding their knowledge and compassionate care to our patients.
We have a number of resources for you to learn about how to take better care of your pets. Browse around and look at our articles and pet videos. The best veterinary care for animals is ongoing nutrition and problem prevention. If you want to ask a question call 831-338-7205 or email us and we'll promptly get back to you. Our Boulder Creek veterinarian office is very easy to get to, and you can find directions on our Contact Us page. You can also subscribe to our newsletter which is created especially for Boulder Creek pet owners. In between your veterinary visits, your pet will benefit from you reading these free informative articles.
At Boulder Creek Veterinary Clinic, we treat your pets like the valued family members they are.
Dr. Kathie Gerrity
Boulder Creek Veterinarian | Boulder Creek Veterinary Clinic | 831-338-7205
12870 Highway 9
Boulder Creek, CA 95006